Nearly six years ago we've been at the Panotools-Meeting in Bath. After the sessions we toured the south-west of England four another two weeks. And while taking a little hike near Lynton I took this panorama. And finally today I consider this image as completely post-processed 🙂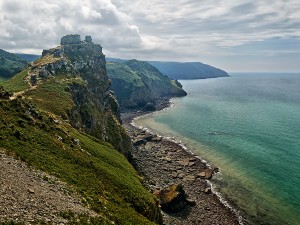 Panotwin Markus made a spherical while I was shooting a mosaic of this view. Back in 2006 I used a Konica Minolta Dynax 7D which had 6 Megapixel. As the shot was hand-held and I wanted to make sure not to forget some portions of the view, I chose an overlap of approximately 50%. So I ended up with 20 images (4 columns with 5 rows in landscape orientation). The final panorama has a resolution of only 42 Megapixel. But hey, this was nearly six years ago!
Camera Maker: KONICA MINOLTA Camera Model: DYNAX 7D Exposure Time (sec): 1/500 F-Number: 5.6 Focal Length (mm): 28 Lens: Minolta 28-70mm/2.8 ISO: 100

Show on map
Related Posts
The Remarkables as seen from Deer Park Heights
Opernplatz (Frankfurt am Main) in the summer of
View over Bad Oberdorf and Bad Hindelang
Cross on Summit of Mount Hirschberg
Reschensee with submerged steeple
Standing at Víti crater lake near Krafla vulcano
Surfing at Eisbach Bridge View
European Central Bank and Skyline of Frankfurt/M.
Wellington as seen from Mt. Victoria