This image shows a reprojected version of this panorama. The projection is "stereographic up".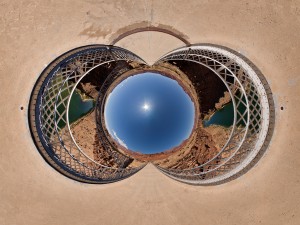 Show on map
Related Posts
Visiting the fun fair Dippemess
Standing inside the archway between Cathedral Cove and
Cranes in the Maritime Museum in Rotterdam; The
MAIN TOWER in Frankfurt am Main – Little
Reprojected spherical panorama at Víti (Krafla, Iceland).
Ófærufoss in Eldgjá Canyon
Reprojection of JPMorgan Chase Corporate Challenge 2008 in
Prague Castle – Changing Of The Guard
Tunnel View in Yosemite Valley