This image shows a reprojected version of this panorama. The projection is "stereographic up".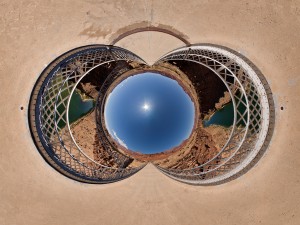 Show on map
Related Posts
Historic Windmill at Hessenpark
Wendelstein Mountain Station
Reprojected Cine-Teatro São João (Droste)
Reprojected subway station (Westfriedhof, Munich)
Before the start of the JPMorgan Chase Corporate
Kaiser Wilhelm Memorial Church in Berlin
Standing near 'Larry' the Big Lobster in Kingston
Photographers waiting for sunrise at Mesa Arch
In the Breitachklamm (a canyon near Oberstdorf, Germany).
Following the Educational Trail