This image is a reprojected version of the panorama In the harbour of Eskifjörður (Iceland). The projection is "stereographic down".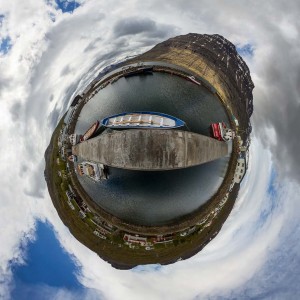 Related Posts
Reichstagsgebäude at sunset
Reprojection of the Harpa (Reykjavík, Iceland)
Standing on the Gibson Steps
Viehscheid in Bad Hindelang
200 years Oktoberfest innkeeper procession
Wiener Prater Boomerang – Stereographic Up
Standing at the Blue Lagoon (Iceland).
Construction site of the European Central Bank