Hverarönð is a geothermal area east of the mountain Námafjall in the north of Iceland. It is part of the volcanic system of the Krafla volcano which is lokated about 8 km (5 miles) to the north.

Fumarole at Hverarönð geothermal area (Iceland)
View this panorama on 360cities.net.
This is one of the rare occasions where I can provide an image, which documents the making of the panorama.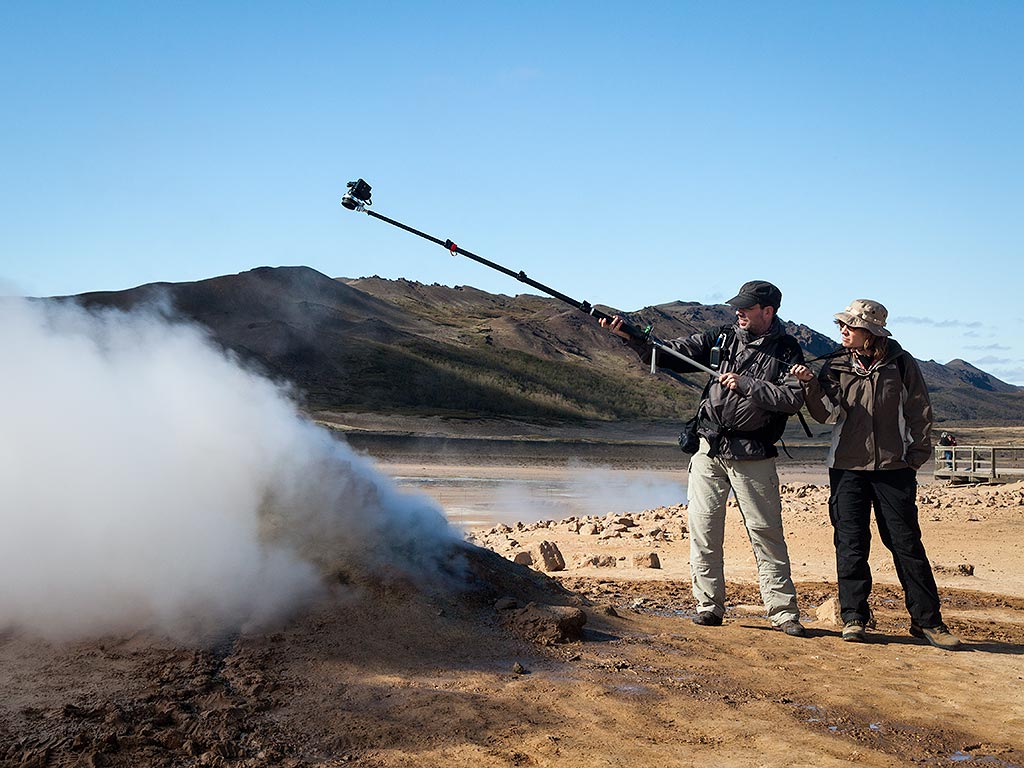 I took six images with a fisheye lens. After taking an image the pole was rotated about 60° before I took the next image. As the images were taken with a fisheye lens we were visible in the "nadir" of the final panorama. I retouched "nadir" and "zenith" manually in Photoshop. The real nadir and zenith were left unt(re-)touched as one shot was facing up and one was facing down.
Camera Maker: SONY Camera Model: NEX-7 Exposure Time (sec): 1/640 F-Number: 8 Focal Length (mm): 8 Lens: Sigma 8mm/F4 ISO: 100

Show on map
Related Posts
Voigtländer Ultra Wide Heliar 12mm/5.6 (on Sony NEX-7)
Skyline of Frankfurt am Main on a sunny
Voigtländer Super Wide Heliar 15mm/4.5 attached to Sony
Visiting Husavík, Hljóðaklettar, Ásbyrgi and Dettifoss
Driving through Kaldidalur to Hraunfossar – Mountain Panorama
From Hverarönð over Víti (Krafla) and Leirhnjúkur into
Impressions from Goðafoss, Myvatn and Dimmuborgir