The lens mount of the Sony NEX camera system is called E-mount. The E stands for Eighteen, as the flange focal distance of the Sony NEX camera series is exactly eighteen millimeters. Most interchangeable lens systems use a longer flange focal distance and therefore you can adapt nearly every available lens to the E-mount of the Sony NEX camera system.
In this case I used the NEX/LEM adapter from Novoflex to adapt an Voigtländer Ultra Wide Heliar 12mm/5.6 to a Sony NEX-7. On a full frame sensor this setup equals to a focal length of 18mm.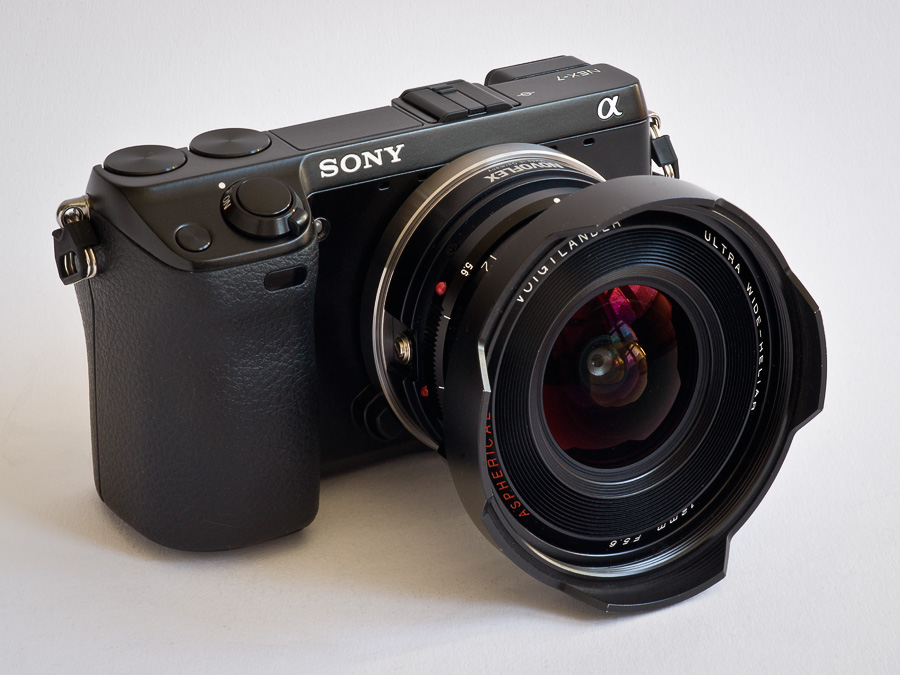 You must be aware that this combination only allows manual control. But the Sony NEX camera system assists in the use of manual lenses if the camera is proper configured:
Make sure you enable the shooting without a lens: Menu → Setup → Release w/o lens → Enable
For the first generation NEX cameras (NEX-5 and NEX-3) make sure you have an actual firmware (≥ version 04) installed. Check this by using Menu → Setup → Version. When you have an older version installed then download the latest version from the Sony support site .
Enable the MF Assist function using Menu → Setup → MF Assist → 2 Sec
You can choose between No Limit — 2 Sec — 5 Sec.
Enable the Peaking Level using Menu → Setup → Peaking Level → Mid
You can choose between Low — Mid — High.
Choose your Peaking Color using Menu → Setup → Peaking Color → Red
You can choose between Yellow — Red — White.
Switch your camera to A- Mode (aperture priority) and use the MF Assist button to get a perfectly sharp picture even when shooting a fast lens wide open.
Related Posts
Ponte Lombardo, Venice (Google Embedded Version 2013)
Turf church Víðimýrarkirkja (Iceland)
To Eldgjá canyon and back again
Visiting Husavík, Hljóðaklettar, Ásbyrgi and Dettifoss
Voigtländer Super Wide Heliar 15mm/4.5 attached to Sony
Some icelandic stereotypes
Voigtländer Ultra Wide Heliar 12mm/5.6 (on Sony NEX-7)
Reprojection of Ponte Lombardo, Venice