This image shows a reprojected image of the Tunnel View in Yosemite Valley. The projection is "transverse mercator".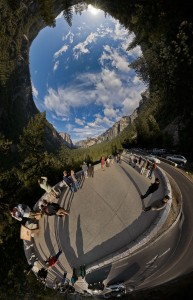 Show on map
Related Posts
Reprojected spherical panorama at Víti (Krafla, Iceland).
Rainbow at Skógafoss in Iceland
Streetlife Festival 2011, Ex+Hop Contest
Reprojected Marble Courtyard in the Castle of Versailles
Standing inside the archway between Cathedral Cove and
Reprojection of the Blue Lagoon (Iceland).
Taranaki Falls in Tongariro National Park
Reprojected view of the Breitachklamm (a canyon near
View from Mount John over Lake Tekapo.