This image shows a reprojected image of the Tunnel View in Yosemite Valley. The projection is "transverse mercator".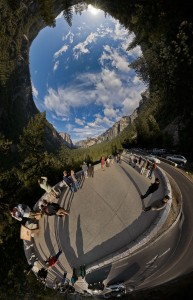 Show on map
Related Posts
Crashed Ice Qualifying Contestant
Reprojected Oldest Shopping Mall of The Netherlands
Reprojected Cine-Teatro São João
Reprojected Haytor Panographers
PanoTools Meeting 2013 Messina Sicily First Impression
Standing at the Harpa in Reykjavík (Iceland)
Bad Hindelang Almabtrieb Decorated Cows
Waiting for sunrise at Mesa Arch
In the harbour of Eskifjörður (Iceland).
Reprojected spherical panorama at Víti (Krafla, Iceland).