This image shows a reprojected image of the view of Monument Valley near Cly Butte. The projection is "stereographic down".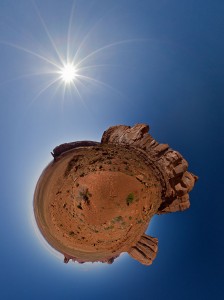 Show on map
Related Posts
Anti Nuclear Movement Demonstration Stage
Plymouth Harbour Fish Sculpture Shadow
Reprojection of 'Standing inside Skálholtdómkirkja (Iceland)'
Wendelstein Mountain Station
At the Petrified Forest near Cape Bridgewater (AUS).
Self-portrait in the sculpture 'Bearing' (David McCracken)
Towerview St. Paul, West, South
Reprojected spherical panorama at Víti (Krafla, Iceland).