Some weeks ago a question came up, whether it is possible to stitch a panorama from so called sweep panoramas made with the Sony NEX-5. The short answer is: NO. You can read the detailed answers in my two recent posts: #1 and #2.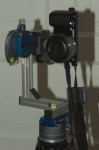 Here is now the result with the same camera and lens: A Sony NEX-5 with the pancake 16mm lens. I mounted the camera on a tripod and shot a multirow panorama with three rows, each row using eight portrait shots. I used a custom panorama head that I set up quickly for the new camera/lens combination (it has not been aligned perfectly for the NPP).
I set the image quality for shooting to RAW. The resulting images were processed using Bibble 5 Pro. Almost the only processing done with Bibble was correcting the CA of the lens. Further processing like correcting lens vignetting and adjusting the a, b and c parameters for the lens was done with PTGui Pro.

Show on map
Related Posts
[DIS]CONNECT @ Schirn Kunsthalle
Nikon Nikkor 50mm f/1.8 AI and Lensbaby Tilt
Entrance Munich's South Cemetery – Droste Spiral
Cross on Summit of Mount Hirschberg
Long time exposure at Goðafoss (at night)
Reprojected WWP International Year of Forests
Comparing Sony LA-EA2 and Sony LA-EA4
Friedhof Nantwein at Dawn
Planinska jama (Planina cave)
View over Bad Oberdorf and Bad Hindelang