I used this tripod construction – a monopod mounted on a tripod – to shoot the WWP- Paths event. You can see the finished panorama on the WWP homepage.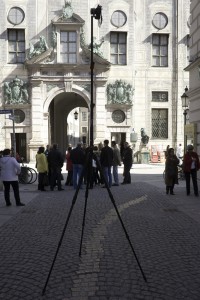 Show on map
Related Posts
View from the tower of Burg Eppstein
View over Bad Oberdorf and Bad Hindelang
European Central Bank and Skyline of Frankfurt/M.
Öxarárfoss on a cloudy day (Iceland)
Newton München – Construction Site March 2017
PanoTools Meeting 2010 Group Shot
More façades of Frankfurt am Main
Oktoberfest like Bavaria sees it