The SLR Magic 35mm/F1.7 is a manual lens and is available with an E-Mount, that fits on the Sony NEX camera series.
To be able to use it, you have to make sure you tweak some settings in your camera:
Make sure you enable the shooting without a lens: Menu → Setup → Release w/o lens → Enable
Before you continue make sure you have Firmware ≥ Ver. 04 installed! Check this using Menu → Setup → Version. When you have an older version installed download the latest version from the Sony support site here.

Enable the MF Assist function using Menu → Setup → MF Assist → 2 Sec
You can choose between No Limit — 2 Sec — 5 Sec.

Enable the Peaking Level using Menu → Setup → Peaking Level → Mid
You can choose between Low — Mid — High.
Choose your Peaking Color using Menu → Setup → Peaking Color → Red
You can choose between Yellow — Red — White.
Switch your camera to A- Mode (aperture priority) and use the MF Assist button to get a perfectly sharp picture even when shooting the lens wide open with f/1.7!
You find some example shots in this post.
See a very detailed review of the lens here.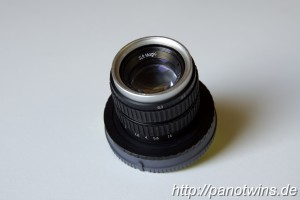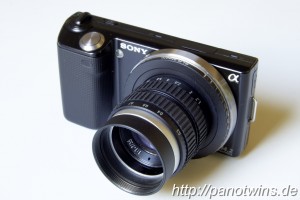 Related Posts
Munich Town Hall Tower North East Corner
Reprojected Bavarian Ministry of the Interior Courtyard
Reprojected WWP International Year of Forests
Sony SEL55210 E-Mount Lens
Multirow Spherical Panorama made with the Sony NEX-5
Remote Trigger with Arduino
Another Experiment With a Cinemagraph
Nikon Nikkor 24mm f/2.8 AI and Lensbaby Tilt
Entrance Munich's South Cemetery – Quadruple Droste Spiral
View over Bad Oberdorf and Bad Hindelang