Preface
Some information on this post is outdated! Google Views has been migrated to Google Maps / Google Streeet View. Outdated information has been struck through.
Google added a nice feature to their set of web based applications recently. Publishing geo located spherical panoramas (aka Photo Spheres) on Views.
Once these panoramas are published they can also be embedded in other web sites. This article explains how you can achieve this.
Prerequisites:
A Google+ account (Get one here).
An equirectangular panorama (or a full 360° cylindrical panorama)
Step1: Create an equirectangular image
Use your favourite stitching software to create an equirectangular image. I usually use PTGui for this purpose. But there are plenty of other solutions available:
Step2: Add Photo Sphere meta data to your panorama
When dealing with Google a spherical panorama is called a Photo Sphere. But in fact this is only just an equirectangular image containing special meta data tags embedded in the file. You find the official Photo Sphere meta data documentation here. Starting with Android Version 4.2 (Jelly Bean) mobile phones can be used to create them directly. When you are working with the conventional workflow of a panoramic photographer you have to add this information into the image manually. There are several ways possible to achieve this, the methods are covered in a separate post.
Step 3: Upload your Photo Sphere to Maps
There are several options available:
One of the easiest ways is to search for a place in Maps. When the place is found there is a section with photos. A small icon should show which says: Add a photo. Just click it, upload a Photo Sphere and you're done!
One even easier way is to use the Street View App on Android or iOS
The following steps are mostly outdated (old workflow with Views), and are only here for reference purposes
Step 3: Check your Google Plus default image settings
Important: Before you proceed to upload your images there are two settings you should check on your Google Plus settings: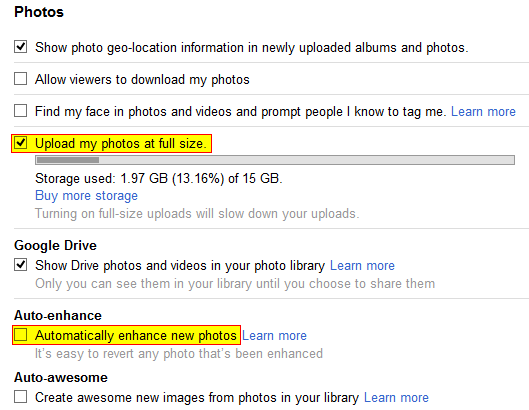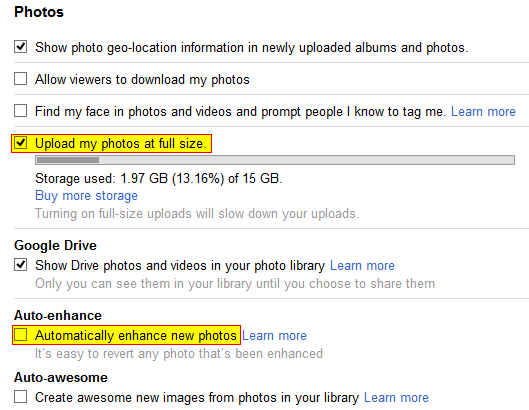 I think the two most important settings you should check are:
Upload my photos at full size to be checked ON. Otherwise your images are scaled down to a width of 2000 pixels.
Auto-enhance should be switched OFF. Otherwise Google enhances the images automatically. This may be a good idea for crappy mobile phone images, but not for already perfectly created high quality equirectangulars!
Step 4: Publish your Photo Sphere to Maps Views
When your panorama has the required Photo Sphere meta information you can publish your panorama on Google Views. The first step to publish your panorama on Google Views is to upload it to your Google account. You do this using your Google Plus photos section


After the uploading process has finished you can control whether your image hsa been recognized as a Photo Sphere. This is the case when the Photo Sphere Symbl is shown on the image. This could look something like this: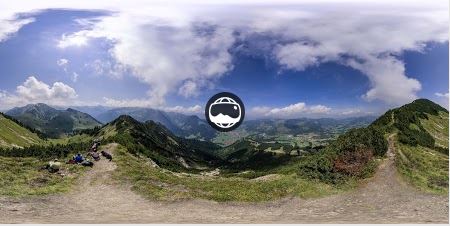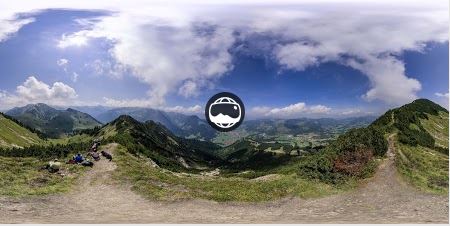 When you don't see the icon in the middle of your image something went wrong!
When you see the icon you can proceed to publish your panorama on Google Views. Open the homepage and search the little blue camera icon on the upper right corner

. Press it and you will be able to select one of your Photo Spheres uploaded to Google Plus. After confirming the selection the panorama will be added to your gallery. However it may take some time for it to show up. The panorma will also be published on Google Maps – after a review process
Step 5: Share or embed the finished panorama
For the final step you open the newly uploaded panorama on your Views gallery. On the bottom left corner you see an area containing a small map of the location of the panorama. Search for the share icon

and press it. You'll see a small window from which you can copy the required HTML iframe – code to embed the panorama on a web page.
Additional links
https://plus.google.com/117971837164857644538/posts/FDipsC8XeFQ
http://exsight360.com/blog/how-to-upload-non-android-360-panoramas-to-google-maps/

Related Posts
Reprojecting equirectangular images for a printed presentation
Reprojected Oldest Shopping Mall of The Netherlands
Statue near Cathedral of Messina
PanoTools Meeting 2013 Messina Sicily First Impression
The Treasury Table Shot 2
Plymouth University Roland Levinsky Building
Postbridge Telephone Booth
Reprojected Cathedral of Messina – Nave
Cranes in the Maritime Museum in Rotterdam; The